HANDLING YOUR INKJET PRINTS
It is important to ensure that media is handled correctly after printing. To achieve the best results this guide highlights some useful hints and tips to follow.
How to Handle Inkjet Prints, Some Basic Rules:
Whilst on display keep your prints away from direct sunlight and protect them from UV light, pollutants and physical damage. You can do this by either framing your print or placing it in an album. This will ensure that you maximize the life of your print without fading (see permanence guide).
Do not keep your prints in extreme temperatures or humidity.
Do not allow your print to become wet.
Smoke, fumes and air pollutants may fade colours, contaminate and yellow prints. It is best to keep prints framed, in an album or in plastic sleeves, to protect them from external factors.
Avoid contact with cardboard, rough paper and other rough materials. They can contaminate the print and scratch the surface. Use soft materials such as plastic sleeves where possible.
Avoid touching the printed surface with your fingers or with sharp tips.
Once printed, your print is dry to the touch; however it is recommended that you allow the ink to dry for 24 hours before placing behind glass or in an album.
Major Factors Which Degrade Prints Are:
Light.
Humidity.
High temperature or heat.
Pollutants and contaminants in the air or from contact material. Ozone and Nitrogen Oxide have been found to be most detrimental to the colourants and to the paper.
Water or other liquid spills.
Mechanical abrasion and scratches if the print is handled roughly.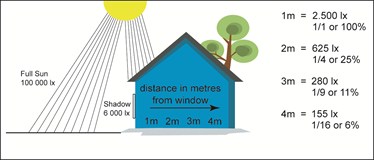 1. Degredation By Light
The lifespan of the image is very dependent on the inks and media used as well as exposure to light. The following are recommendations to protect prints against premature fading.
Recommendations:
Frame them behind glass, (leaving a space between the image and the glass).
Using low light conditions for display, keep them away from direct sunlight and not too close to a window (see graph of typical home illumination) and avoid direct sun.
2. Degredation By Humidity
Most ILFORD photo inkjet papers have high resistance to changes in humidity. As a general rule, when using Original Equipment Manufacturers ink, pigment ink prints do not show any colour change up to very high humidity (> 95% r.h. or relative humidity), whereas dye ink prints are stable up to 80% r.h. However, very low humidity (<20%) can make materials brittle. Recommendations:
Keep prints between (> 20% r.h. < 65% r.h.).
Avoid heat and high humidity over longer periods.
3. Heat Degredation
ILFORD GALERIE media is not very sensitive to higher temperatures (up to 35°C/95°F), and is not affected by the moderate temperatures found in most homes however the following recommendations are still advised.
Recommendations:
Keep prints below 60°C (140°F). Such high temperatures can occur, for example, if prints are left in a car during the summer.
Keep prints <30°C (86°F) for long term storage in homes.
Avoid high temperature and high humidity combinations.
Avoid contact with other heat sensitive materials that could transfer onto the paper such as wax, oil and glue.
4. Degredation By Pollutants
ILFORD media is designed to allow the easy absorption of inks. However, this means that some environmental pollutants may also be absorbed.
Recommendations:
Keep prints framed, in an album or sealed with non-contaminant materials (for example PE plastic, PET, archival board, cotton etc).
Contact with certain paper products (cardboard, paper etc) can transfer contaminants and should be avoided for longer term storage, use plastic sleeves or archival cardboard when possible.
Avoid contact to rubber products, most of which can stain prints.
5. Degredation By Water
Whilst ILFORD photo papers and many inks are moderately water fast, coloured liquids may stain the print if they come into contact with the surface.
Recommendations:
Avoid water spillage. If it happens, let it dry or remove gently with a cloth without rubbing and leave to dry naturally.
Coloured liquids such as tea, coffee, ketchup etc. may stain a print. If this happens, immediately wipe off after a spill.
6. Scratches And Mechanical Damage
The surface of photo prints can be scratched and damaged if handled roughly. Pigment ink prints are generally more sensitive to abrasion than dye ink prints or unprinted paper.
Recommendations:
Avoid touching the prints with fingers.
Keep the surface away from abrasive materials.
Do not touch with a sharp tip.